Washington: The UN has reported a "sharp slowdown" of world trade, attributing the decelerating global trade growth to "a declining import demand" in Europe and "anaemic aggregate demand" in the US and Japan.
"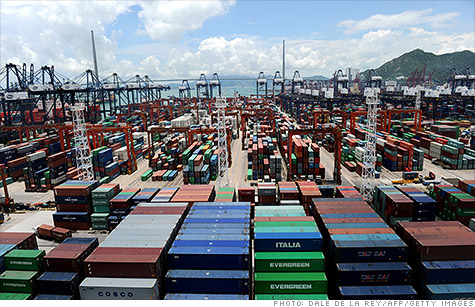 Growth of world trade decelerated sharply during 2012, mainly owing to declining import demand in Europe, as the region entered into its second recession in three years, and anaemic demand in the US and Japan," Xinhua quoted a UN report titled "World Economic Situation Prospects 2013" as saying.
The report was released Tuesday by the UN Department of Economic and Social Affairs.
It said that after plunging by more than 10 percent in the recession of 2009, world trade rebounded strongly in 2010.
"Since 2011, the recovery of the volume of world exports has lost momentum," the report said.
"Developing countries and economies in transition have seen demand for their exports weaken as a result."
"The monthly trade data of the different regions and countries showed a clear sequence of the weakening demand that originated in the euro area transmitting to the rest of the world," it said.
Import demand in Greece, Italy, Portugal and Spain started to decline in late 2011 and fell further during 2012, but the weakness in trade activity has spread further to the rest of Europe as well, including France and Germany, the report said.
"In tandem, imports of the United States and Japan also slowed significantly in the second half of 2012. East Asian economies that trade significantly with the major developed countries have experienced commensurate declines in export," Xinhua quoted the report as saying.
"Further down the global value chain, energy and other primary- exporting economies have seen demand for their exports weaken as well," the report said.
"Brazil and the Russian Federation, for instance, all registered export declines in varying degrees in the second half of 2012."
"Lower export earnings, compounded by domestic demand constraints have also pushed down GDP growth in many developing countries and economies in transition during 2012. This has led to flagging import demand from these economies, further slowing trade of developing countries," it added.
– IANS