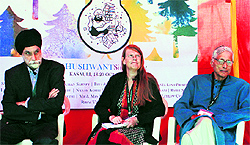 Solan: The 3-day Khuswant Singh Literature Festival being organized in Kasauli came to an end on Sunday. The last day of the event saw famous biographer and grandson of Mahatma Gandhi, Rajmohan Gandhi releasing the latest work 'The good, the bad and the ridiculous' of the globally renowned writer, journalist and columnist Khuswant Singh.
Rahul Singh, son of the veteran writer, well known journalist Mark Tully and various other eminent personalities were also present on the occasion.
Rahul Singh pointed out it may well be the last book penned by his father. He also informed that writing for his father had become difficult due to old age. He added that he was extremely elated to be a part of the special event.
The book covers various experiences of the 97-year old prolific writer while he served under various capacities in the field of law, journalism and Foreign Service. The book interestingly mentions thirty five good, bad and ridiculous characters he came across during his lifetime. His work also talks about distinguished names such as Amrita Shergil, LK Advani, Indira Gandhi, George Fernandez, Phoolan Devi, Mother Teresa and Jarnail Singh Bhindranwale among others.